Arcade's digital platform allows you to create a competitive and friendly culture in your dealerships while improving customer service and increasing your sales.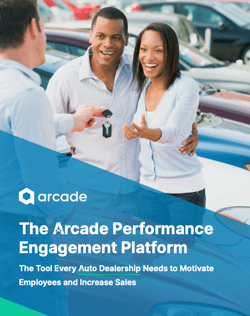 In our latest brochure, we've highlighted ways to improve connection and culture across every automotive dealership department and drive every employee toward the actions and behaviors that ultimately help you grow.
Arcade's automotive performance engagement platform boosts employee motivation, performance, and retention through:
Gamification

Fun interface, leaderboards, small-level games, and micro-incentives

Redeemable Rewards

Digital tokens, incentives, and pos integrations

Recognition

Push notifications, instant rewards, and a culture of recognition

Communication

Multi-location functionality, attachments, and newsfeed

Integrations

Top CRMs, DMS, and service scheduling systems (CDK, Elead, DealerSocket, VinSolutions, Dealertrack)
Fill out the form and download our brochure, The Arcade Performance Engagement Platform, The Tool Every Automotive Leader Needs to Motivate Employees and Increase Sales, and improve your customer experience and bottom line.